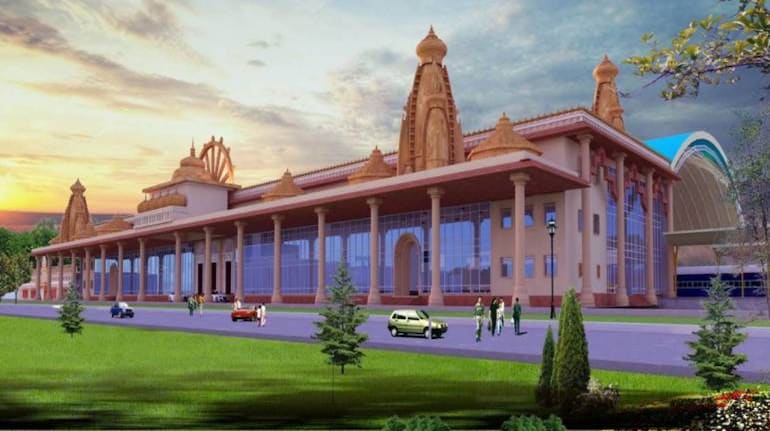 Ayodhya Railway Station design Image: Twitter/ Piyush Goyal)
Indian Railways is planning to revamp the Ayodhya railway station in Uttar Pradesh. As per the traffic projections of the Railways, Ram Mandir is likely to transform Ayodhya into a pilgrimage centre as big as Varanasi or Prayagraj. The Railways also increased the budget of the redevelopment of Ayodhya station from Rs 80 crore to over Rs 104 crore.
"The construction work of a well-equipped building with the latest and modern passenger facilities of Ayodhya station is in progress. For this building approval of Rs 80 crore was sanctioned in FY18, which has been increased to Rs 104 crore at present," the statement said.
Officials in the Lucknow Division of Railways told The Indian Express that footfall at Ayodhya station is estimated to jump at least 12 times from the present 5,000 per day once the Ram Mandir is opened to the public.
The station, which falls under the Northern Railway zone, is being modelled on the Ram temple and several passenger-friendly features are being introduced.
The station is being redeveloped by RITES Ltd, an enterprise of Indian Railways. Facilities like modern art galleries, male and female dormitories, increased number of ticket counters, food plaza, additional foot over bridges, tourist centres, taxi booth, a VIP lounge, a guest house and even an auditorium will be constructed.
The Railways has sought land from the Uttar Pradesh government for development of around 1 lakh sq m of additional space to create the new station. Recently, the Railways also released pictures of the redeveloped station's design. The station is expected to be complete by June 2021.
"We expect passenger traffic to grow significantly in Ayodhya in the coming years. Along with the redevelopment of the station, we have undertaken massive infrastructure augmentation there that will result in more trains to and from Ayodhya," Rajiv Chaudhry, General Manager, Northern Railway said.
The ground breaking ceremony of the Ram temple is scheduled to be held on August 5 in Ayodhya and is expected to be attended by Prime Minister Narendra Modi.